The last thing you want to think about when traveling is your toothbrush. Sure, it's a crucial part of your packing list, but when you're juggling plenty of other travel concerns, it can fall to the bottom of your list of priorities. That's why the best travel toothbrushes are an easy investment you can make now that will make your trip a little more peaceful and relaxing.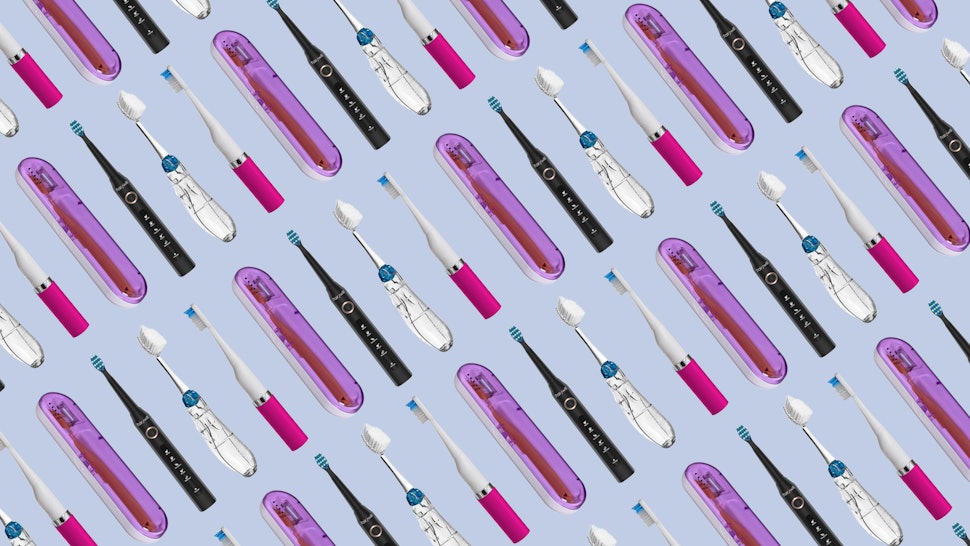 When choosing the best toothbrush for you, you'll have to choose first between electric and manual. The
best travel electric toothbrushes
, for example, are compact, easy to charge, and have a long battery life. When you're already trying to squeeze everything into a tiny carry-on, you don't want to waste space on charging cords, so look for an electric toothbrush that you can charge before you leave, with a battery that will last your entire trip.
With manual toothbrushes, you'll want to invest in one that can be easily stored. If you plan to use it repeatedly, look for a brush that comes with its own case, so you don't have to keep throwing it in a plastic bag every time you go somewhere.
Wherever you're jet-setting off to, here are the best travel toothbrushes that will keep your teeth fresh and clean along the way.
1. The Most Travel-Friendly Toothbrush
Available in a pack of three, this foldable travel toothbrush couldn't be more convenient. It works with a jack-knife design style, so you can unfold the handle to brush your teeth, and then refold it in on itself to work as its own built-in case. And while the handle itself is a little bulkier, the toothbrush does have a slim neck design, so you can still reach tight spaces and ensure your teeth are getting the deep clean they deserve. Plus, it's eco-friendly: The handle is reusable, and you can purchase replacement heads in super soft, soft, and medium.
2. The Most Compact Electric Toothbrush
This ultra-compact electric toothbrush weighs less than 3 ounces, is just 7 inches tall, and its bristles spin 22,000 times per minute. Each replaceable brush head will last you for up to six months, and its cap also has small holes in the top so that moisture can easily escape and your toothbrush can dry all the way through. This brush also operates via batteries, so you don't have to rely on electricity or plugs nearby to charge it. One fan says, if you "want to travel light, this is a five star travel toothbrush."
You can easily purchase four replaceable brush heads for this toothbrush for just $12.
3. An Upgrade Electric Option You Can Use On The Go (& At Home)
If you want an electric toothbrush that is great both for travel and for when you're staying close to home, this electric toothbrush is a fantastic buy. Not only does this toothbrush offer 40,000 strokes per minute (well over the dentist-recommended 7,500 spins), it also has a battery life that can last for 30 days before needing to be recharged. Simply charge this brush for four hours and you'll be able to use it for a month-long trip without it needing a recharge. It also offers five cleaning modes, including white, clean, sensitive, polish, and massage – and is designed to weigh less than half of a regular electric toothbrush.
One important thing to note about this model is that it doesn't come with its own carrying case, which you'll need when traveling. We recommend snagging this handy travel case that goes with it, for just $10 more.
Also, Great: A Sanitizing Case That Uses UV Lights To Kill Bacteria On Your Toothbrush
Also, Great: A Sanitizing Case That Uses UV Lights To Kill Bacteria On Your Toothbrush
The truth is that any toothbrush can be a great travel toothbrush if you have the right case, like this portable sanitizing case from eJaisu. Using UV light bulbs that won't need to be replaced, this sanitizing case eliminates up to 99.9 percent of the germs and bacteria that form on your toothbrush or electric toothbrush head. The cleaning system automatically turns on when you insert your toothbrush and shuts off after five minutes, so you can simply toss it in and then forget about it. If you're sick of toothbrush cases that quickly get gross and moldy, one user raved that "this is the answer," while another proclaimed: "Don't hesitate to buy this!!!"
Bustle may receive a portion of sales from products purchased from this article, which was created independently from Bustle's editorial and sales departments.